The Internet and children - what's the problem? Internet Safety
The Internet has become an integral part of our and our children's lives. A world has opened up which offers many positive opportunities. According to Ofcom, (2013) the majority of parents agree with the statement: "I trust my child to use the Internet safely" (83%). However, only 43% of 8-11 year olds are very confident in knowing how to stay safe online. It is therefore important that parents and carers are aware of the way in which their children use the Internet; talk to them about the risk of going online and assist them to use the Internet safely and responsibly. This is what research tells us: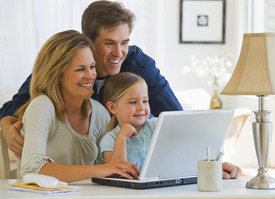 96% of 8-11 year olds used the internet in 2013 (Ofcom, 2013)
Access to the Internet using a mobile phone more than doubled between 2010 and 2014, to 58% (Office for National Statistics, 2014).
Children aged 8-11 spend an average of 9.2 hours online per week. As they get older they tend to spend more time online (17 hours per week for 12-15 year olds) (Ofcom, 2013)
36% of 9-12 year olds have a Facebook profile (Childwise Monitor Report, 2012)
Children start using computers from a very early age and are increasingly using the Internet more and more whether at home, in school, on their mobile phones or on a games console. With this in mind, Internet safety and knowing how to help protect children and young people online is essential.
Just as we want to keep our child safe in the 'real' offline world, we will want to do the same in the virtual online world. It is important that we understand enough about the Internet to keep our children safe from harm but it is equally important that we equip our children with the skills they need to keep themselves safe so they can experience the Internet positively and responsibly.
You can use the links below to read about:
The pages on this site aim to:
Give useful Internet safety tips on how to help children remain safe whilst on the net.
Provide the information needed to recognise the tell-tale signs that someone may be using the Internet in sexually inappropriate or harmful ways.
Enable people to build up confidence to do something about it, if a problem arises.